Advanced Manicurist Program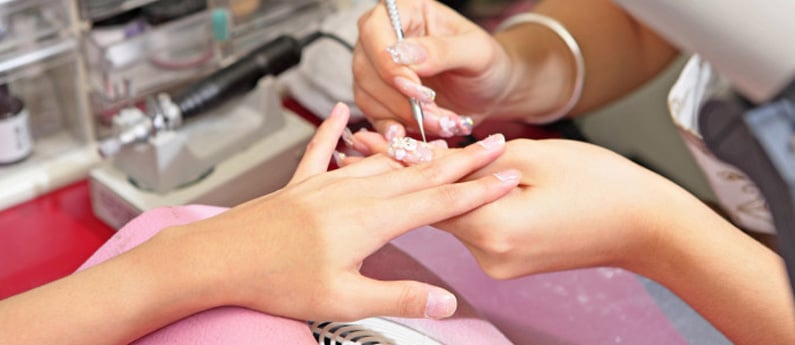 You Can Get the Skills to Be a Professional Manicurist in as little as 10 Weeks**
The 300 hour Advanced Manicurist Program was created for students who are specifically interested in the nail care area of cosmetology. Raphael's School of Beauty has been open for over 50 years, so we bring decades of experience to the classroom.
Our Advanced Manicurist Program aims to provide our students with the hands-on training, practical experience and support it takes to become a skilled, professional Manicurist.
During the Advanced Manicurist Program, you'll be introduced to nail structure and manicuring techniques along with advanced training in artificial nail application, maintenance nail wrapping and nail tips.
Courses include:
Sanitation & Bacteriology
Anatomy & Physiology
Hand, Arm & Leg Massage
Manicuring Procedures
Artificial Nails
Specialized Equipment
Salon Operations and Communications Skills
Cosmetology Laws & Rules
Public Health & Safety
Advanced Techniques
Schedule
Classes run Tuesday – Saturday, with three potential schedules to choose from:
9:00 a.m. – 3:00 p.m.: Complete in 3 Months*
9:00 a.m. – 4:30 p.m.: Complete in 2.75 Months*
9:00 a.m. – 5:30 p.m.: Complete in 2.5 Months*
Classes start on the third Tuesday of each month.
*All students are required to complete 16 hours of Saturday attendance each month.
Schedule availability is subject to change and may vary by campus.
Hands-On Training with Real Clients in our Student Salon
Manicuring is literally a hands-on field, and at Raphael's School of Beauty we believe that's how it should be taught. As an Advanced Manicurist student you'll work with real clients in our professional, on-site nail salon, providing a wide range of services under the guidance of an instructor.
Since passing my State Board Exams, I am now the owner of Kaitlin's Designer Nail Spa in Garrettsville, Ohio. In addition to basic nail services, I also offer hundreds of original hand-painted designs.  I have been published multiple times in NAILS Magazine including being in the top 22 for their Annual Cover Contest with entries from Professionals around the world for both 2014 & 2015.  Some of my nails were showcased in Scott Publications "Just Steampunk!" 2011. You can also find me on Etsy, where I have sold finished hand painted artificial nails that have traveled all over the world!
Practical Business Management Skills
In addition to the art and science of nail care, this program is designed to teach all areas of being a salon manager such as hiring new employees, payroll, taxes, etc.
As a graduate you can enter the professional world with confidence knowing you have had the opportunity to learn both the technical training and practical business skills it takes to build a successful career.
Work with Professional Product Lines
As a Raphael's student you'll have the chance to work with many top salon quality product lines including CND. This way you are able to experience a wide range of products that you will use in your career.
Nail Technician Kit
On the students first day of class, when they enroll in the Advanced Manicurist Program, they will receive their books, apron, and nametag. At 50 hours of attendance, they will receive their CND nail kits.
State Licensing
One of our primary goals is to assist each graduate in feeling fully-prepared to sit for the Ohio State Board exam to become a licensed advanced manicurist.
Is a Creative Career in Nail Technology Right for You? Get More Information…
If you're interested in learning more about careers in Manicuring and Nail Art and exploring whether becoming a professional Manicurist is right for you, click on this page to receive more information.
A helpful Raphael's School of Beauty Admissions Representative would be happy to answer any questions you have and help with everything from scheduling to financial aid.
For immediate questions, call 330-565-3666.
* Program length when completed in normal time.