June 29, 2022
What is a Nail Technician?
Are you curious about what a nail technician is and what it takes to become one? You probably already know that a nail technician is a specialist in the beauty industry who provides care and grooming for their client's nails and toenails. If you're interested in pursuing a career as a nail tech, there is more you should know than just how to paint and shape nails. If you have a passion for nail care and think this may just be the career for you, then we have the perfect guide for you!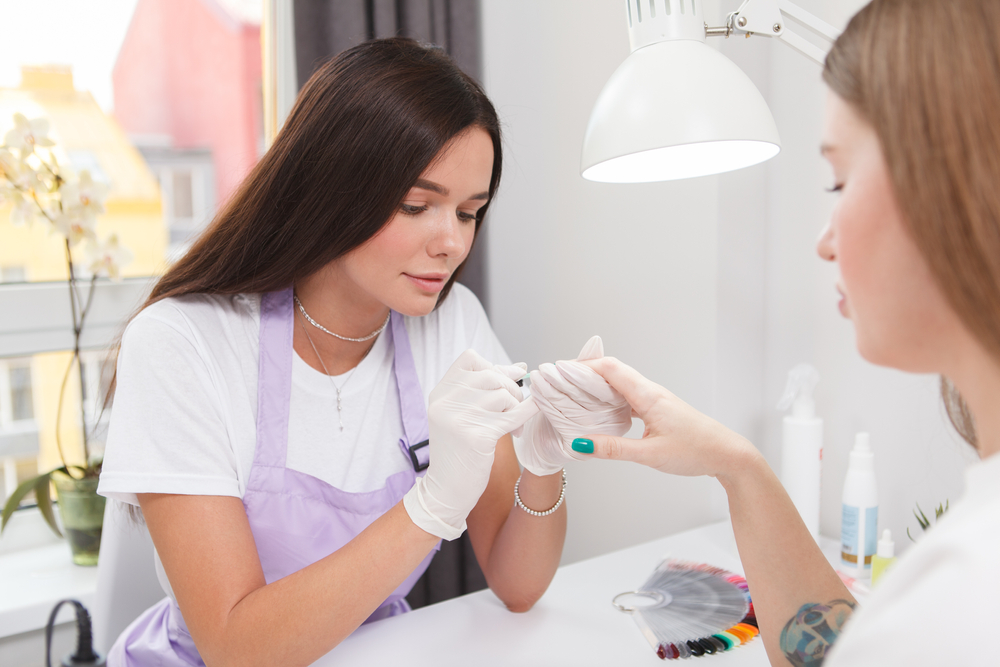 A Day In The Life Of A Nail Technician
Nail professionals go through a certain amount of training and schooling to learn how to groom their potential clients' toenails and fingernails. They are all about nail care and grooming, while providing other relaxing services, like light hand massages and foot scrubs. A few services to expect from your local nail technician are:
Manicures/Pedicures

Nail Filing/Shaping

Trimming

Moisturizing

Cuticle Treatment

Gel Coverings

Acrylic Nails

And More!
If you were that friend who always painted their friend's nails at slumber parties or for special events growing up, then this could be a really fun journey for you to take in further developing your creativity and skill set. 
What Does It Take To Become A Nail Technician?
Nail technicians have a few personality traits that help them to become more successful in their career. A few of these traits are:
Creativity –

This career journey requires an artistic mindset for coming up with different designs and ideas expressed through various nail art. 
Resourceful –

This is someone who is willing to take risks and is comfortable selling their nail service and potentially managing a team in the future.
Social –

Nail technicians spend a lot of one-on-one time with customers. It is important to be able to hold a conversation and help clients to feel comfortable when they come to see you for a day of relaxation and pampering.
Problem-solver –

A nail technician uses their problem-solving skills to make sure clients are happy and satisfied with their service. Coming up with solutions is a must for providing clients with excellent services. There is so much competition out there, so doing your best to make the customer happy can encourage them to visit you again for their next appointment. 
Not only are personality traits important, but so is developing your craft and gaining experience. The best way to gain experience is through an education from professional, experienced instructors who can help you to develop your skills and run a nail tech business. You can apply for a nail technician program near you. If you are currently living in Ohio, then Raphael's School of Beauty Culture has several locations for you to choose from! Our programs are great when pursuing a nail tech education. 
What to Expect from Nail Technician School
There are a variety of different nail tech career options to look into that might be of interest to you. From freelancing to working in a nail salon, here are a few potential careers to consider as a licensed nail technician:
Nail Artist

Retail & Consulting

Mobile Manicurist

Salon Owner

Nail Technician Educator

Brand Marketer

Beauty Social Media Influencer

And More!
If you are looking into becoming a nail technician in the state of Ohio, then you should complete at least 200 hours of training. Our advanced manicurist program is a 300 hour program where you can learn additional skills. After receiving your education, you need to apply for the state exam to become a licensed nail technician. Every nail technician school is different, but our advanced program offers courses in:
Manicuring Procedures

Artificial Nails

Anatomy & Physiology

Advanced Techniques

Public Health & Safety

Salon Operation and Communication Skills

Cosmetology Laws & Regulations

And More!
If you're wanting to learn more than just nail technology, check out our other beauty school programs! We also offer a combination advanced esthetics & advanced manicurist program that may be of interest to you! Before attending beauty school, there are a few things you might want to know that could be very helpful to you and can answer any questions you may have! 
Looking to Become A Nail Tech?
If you have no idea what to expect from beauty school and have more questions, then book a tour with us! Contact our friendly admissions team to give you the guidance you need to feel confident in beginning your education! Learn more about our school and what we have to offer! 
We love our students and want them to succeed. We try to do all we can to provide them with an excellent education and a variety of opportunities after graduation.